HELP US SUPPORT AND BRING TOGETHER THE NEXT BRILLIANT GENERATION OF IRANIAN AMERICANS WITH A GIFT TO THE IRANIAN SCHOLARSHIP FOUNDATION
The Iranian Scholarship Foundation (ISF) enables outstanding students of Iranian descent who lack financial resources to pursue their academic dreams and cultivate professional paths of the highest caliber. Your gift will allow us to continue this vital work. ISF is composed entirely of volunteers, with all administrative costs donated by our leadership and 100% of donations going directly to the students. ISF believes the future of the global Iranian community rests in the hands of our younger generation. With your financial support, together we can advance a new generation of students who, through their academic excellence and commitment to community service, will build promising lives that will enrich the global Iranian community. ISF is a registered 501(c)(3) nonprofit organization; all donations are tax-deductible to the extent permitted by law. Tax ID # 20-3100594.
One of the easiest ways to support ISF is to donate online. Click here to create or use your PayPal account to contribute to ISF's support for a new generation of promising Iranian-American students who are dedicated to service to the community. You can also contribute to ISF through AmazonSmile. Go to AmazonSmile and make ISF your favorite charitable organization. Then for every purchase you make, the AmazonSmile Foundation will donate 0.5% of the purchase price of eligible products to ISF, at no extra cost to you.

You can also provide support for ISF's work by donating via check. Please download and fill out this simple form and mail it to the address indicated with your check to ISF. You will receive a receipt and our gratitude for helping to support exceptional students who will be leaders of tomorrow.


Download the form
One of the most effective ways for people to learn about ISF is to attend our Annual Galas. The Annual ISF Gala brings the ISF community together to celebrate our students and their families. We invite you to join this joyous occasion, where all can meet the students, learn about their exciting work, and celebrate membership in the Iranian-American community. By buying a ticket for yourself, your family and your friends and colleagues, you will provide direct support for ISF's student scholarships. Visit the Gala page on our website to learn more about this exciting event.
Donations made to Iranian Scholarship Foundation (ISF) in the name of loved ones.
Mahin Afkhami (1931-2020)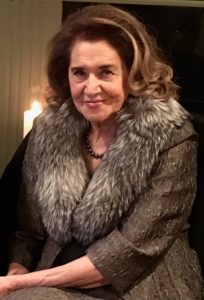 Mrs. Mahin Afkhami, daughter of a high-ranking officer, was only ten years old when the allied forces occupied Iran during the World War II. Witnessing the hardship of people, she developed a strong ethos for philanthropy and helping the vulnerable. She sought to enrich her own knowledge and learning from a young age until her final days. She was an independent-minded, strong woman who sought social equality for all women long before those sentiments were widely acceptable and organized into movements.
Ms. Afkhami worked tirelessly and achieved an illustrious carrier that gained her the position of Director General in charge of all Tourism at the Iranian Ministry of Information. During those years she used her gift of writing to promote social freedom for woman, and for the under privileged. Further, Ms. Afkhami was an extraordinary and dedicated supporter of the Iranian youth and their education. She built a school in a neglected village, while providing all the logistics and the needed supply of clean water and electricity. She made it all happen through her grit, indomitable spirit, and sheer willpower.
She uprooted her family to the US in 1979 due to circumstances of historical necessity. From that point on she worked diligently to help establish the Iranian identity in a foreign land – not just for the sake of her children and grandchildren who were later born in the US, but for all Iranian diaspora to appreciate and cherish their rich Iranian historical and cultural roots. Those sacred roots – despite unfortunate circumstances within Iran – make us all proud to be IRANIANS.
Ms. Afkhami was a strong contributor and advocate of the Iranian Scholarship Fund committee from its early journey to evolving into the powerhouse that it is today. With devotion and dedication, she reached out to universities across the nation to identify Iranian
students of talent and need who could benefit from the support of ISF.
Every year, she spent countless hours reading each application in great depth and assiduously categorizing and commenting on every applicant's background. She sought to not only highlight those in need with exceptional grades, but the circumstances they overcame while also giving a helping hand to those less fortunate. Her labor of love in ISF has helped create one of the most galvanized, highly accomplished and dedicated young communities outside of Iran.
Donations made to Iranian Scholarship Foundation (ISF) in the name of Mahin Afkhami.
Nariman & Kimberly Afkhami
Karl & Nafiseh Lindberg
Nazy & Behnam Tabrizi
Mehdi Safipour
Shohreh Malek
Khosrow Mazaheri
Nasrin Nayyerhabibi
Shahin & Shirin Hadayet
Maryam Dickey
Faezeh Sharifi
Azra Ghaffarian
Arash Shahideh
Cynthia Lohr
Beeta Tahmassebi
Shahrzad Paborji
Mohammad Shadman
Michael Tahmassebi
Marjan Hekmat
Niloufar Ebeid
Neguin Ghafessi
Lili Esfahani
Nahal Barmak Iravani Sani
Mina Tahmassebi
Mitra Mahdvai
Ellie Mortazavi
Erin Tjahjono
Asami Salsbery
Amireh Parstabar
Soltan Nikkhah Azimzadeh
Dr. Ali Abazari
Abbas Ardahali
Leyla Abazari, DDS, MSD
Maryam Aryafar
Amir Tafazoli Yazdi