HELP US SUPPORT AND BRING TOGETHER THE NEXT BRILLIANT GENERATION OF IRANIAN AMERICANS WITH A GIFT TO THE IRANIAN SCHOLARSHIP FOUNDATION
The Iranian Scholarship Foundation (ISF) enables outstanding students of Iranian descent who lack financial resources to pursue their academic dreams and cultivate professional paths of the highest caliber. Your gift will allow us to continue this vital work. ISF is composed entirely of volunteers, with all administrative costs donated by our leadership and 100% of donations going directly to the students. ISF believes the future of the global Iranian community rests in the hands of our younger generation. With your financial support, together we can advance a new generation of students who, through their academic excellence and commitment to community service, will build promising lives that will enrich the global Iranian community. ISF is a registered 501(c)(3) nonprofit organization; all donations are tax-deductible to the extent permitted by law. Tax ID # 20-3100594.
One of the easiest ways to support ISF is to donate online. Click here to create or use your PayPal account to contribute to ISF's support for a new generation of promising Iranian-American students who are dedicated to service to the community. You can also contribute to ISF through AmazonSmile. Go to AmazonSmile and make ISF your favorite charitable organization. Then for every purchase you make, the AmazonSmile Foundation will donate 0.5% of the purchase price of eligible products to ISF, at no extra cost to you.

You can also provide support for ISF's work by donating via check. Please download and fill out this simple form and mail it to the address indicated with your check to ISF. You will receive a receipt and our gratitude for helping to support exceptional students who will be leaders of tomorrow.


One of the most effective ways for people to learn about ISF is to attend our Annual Galas. The Annual ISF Gala brings the ISF community together to celebrate our students and their families. We invite you to join this joyous occasion, where all can meet the students, learn about their exciting work, and celebrate membership in the Iranian-American community. By buying a ticket for yourself, your family and your friends and colleagues, you will provide direct support for ISF's student scholarships. Visit the Gala page on our website to learn more about this exciting event.
Donations made to Iranian Scholarship Foundation (ISF) in the name of loved ones.
In Memory of Parviz Maboudi ( 1931-2023)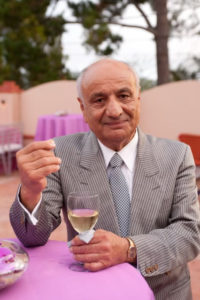 *************************